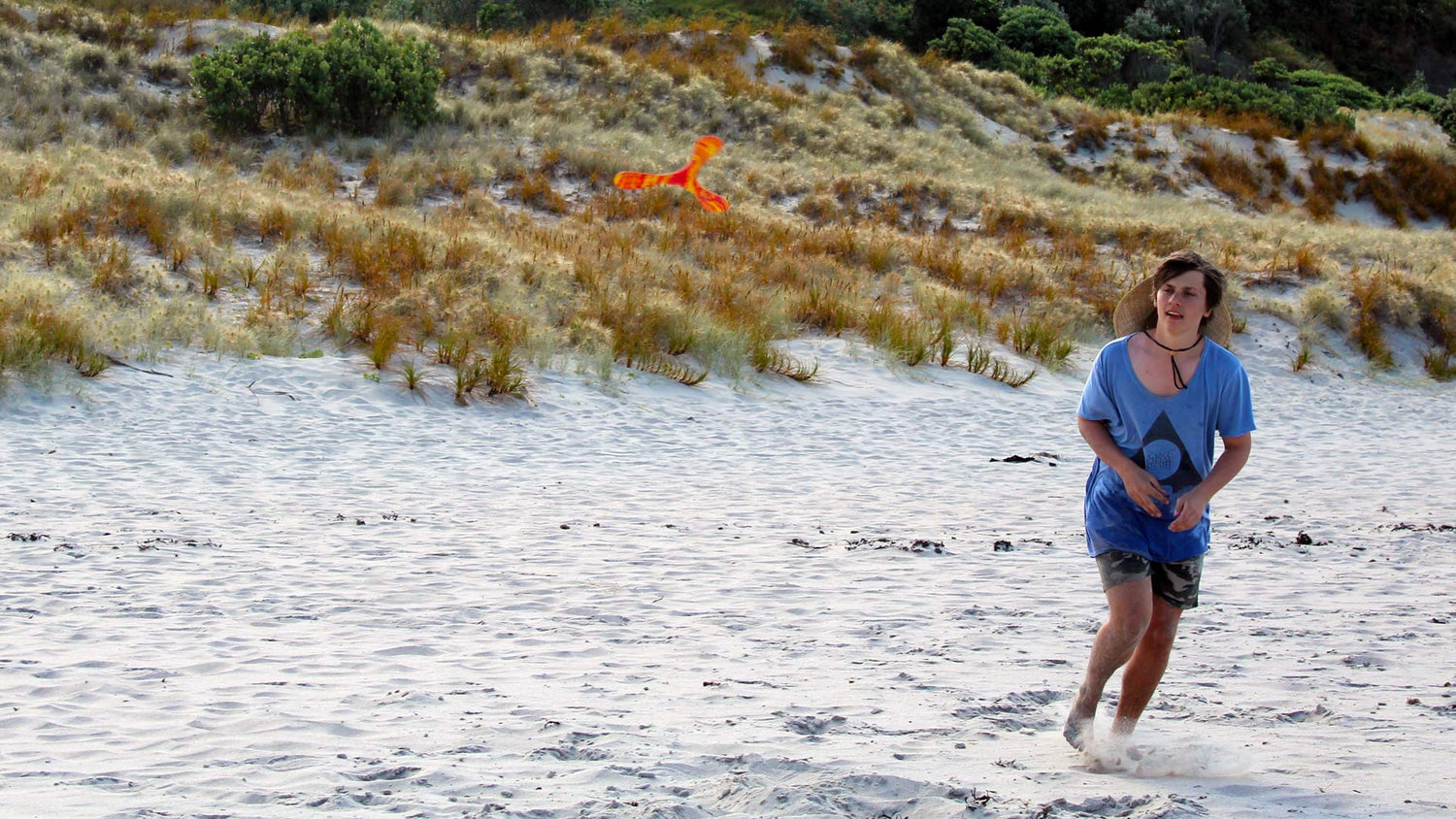 FlyingToyz Boomerangs
"what goes around comes around"
FlyingToyz Boomerangs, based in Melbourne, Australia, specializes in the manufacture and distribution of sport boomerangs.
SHOP
Sport Boomerangs
Regular price

Sale price

$23.00 CAD

Unit price

per

Regular price

$28.00 CAD

Sale price

$23.00 CAD

Unit price

per
Beginner or Experienced?
Beginner Throwers

Safe Foam Boomerangs are great for all to learn. Superangs are Perfect as an introductory boomerang

 

 *SAFETY AND INSTRUCTIONS To Be Read and Understood

FlyingToyz has come up with the world's safest outdoor boomerang that really works.The Aussie Superang is an introduction to the sport of boomerangs and fast catch boomerangs. Made with the latest thermoforming technology combining plastic and foam, the Aussie Superang has the advantage of structure from the plastic insert and soft, safe outer skin provided from the foam. With a range of about 6- 8 meters, the colourful foam Aussie Superang is a safe boomerang, and suitable for use by children of all ages. With fitness and outdoor activity becoming increasingly important, children and teenagers love the genuine sports activity that Superangs bring to the sport of boomerang throwing. It is designed for all to enjoy and play outside and enhances agility for all ages! Throwing and catching, stretching, running around and keeping up with the Superang is fun and tests your endurance. Kids and teenagers love this boomerang! Trick catches are easy with the Superang. Try juggling, doubling, one-handed on your head or behind your back catches, if you can...

 

FlyingToyz Indoor Superang is made of soft colourful foam. With a true boomerang flight the Indoor Superang is a must have for all who love to play! Whether it is for the office or coffee table the Indoor Superang always looks innovative and contemporary as a modern boomerang. Learning to throw the boomerang is easy with an Indoor Superang as it softly comes back and is a delight for all!

OZ Icerunner

OZ Icerunner Right Handed Foam Boomerang

Range 8-15meters

Oz Icerunner is Making Aussie's on the run! Feel younger and get fitter with Oz Icerunner hovering in front of you and making you feel like catching it! Have a go, get running, and throw your safe foam boomerang - the Oz Icerunner!

Superang13

Superang13 is the latest in FlyingToyz range of SUPERANGS.

With a weight of 13grams this Superang is suitable for GYMS, BIG ROOMS, COURTYARDS... The weight of a Superang helps determine it's flight characteristics, so being only 13grams means it's range is between 3m- 5meters! Perfect for the gymnasium, anywhere that is sheltered from the wind...
Experienced Thrower

 

Australian Aborigines invented it, FlyingToyz made it user-friendly. With a range of about 35 meters, this is the real thing. The right handed AUSSIE MAGIC Sport boomerang is made of durable plastic, and available in bright fluorescent colours. Professional throwers, often comment that it is easily one of the best plastic boomerangs on the market!!

FlyingToyz Performance boomerangs

* handcrafted in Australia with 5mm 10ply plywood

Always a favourite, the Aussie Arrow is a magestic boomerang that has a range of approximately 35meters. Carved from 5mm - 10 ply super strong professional aviation birch, this boomerang flies beautifully. 



Spectacular is the only word to describe the OzPhoenix as it flies through the air! Australian made FlyingToyz OzPhoenix is a premier Performance boomerang made of 5mm 10ply Aviation birchwood. With a range of 30-35meters, the OzPhoenix is an easy throw and catch. The rainbow colours of the OzPhoenix blend together to give the illusion of the rainbow, mystical Australian Phoenix returning to the thrower.


Aussie Fire Dancer Performance Boomerang is handcrafted in Australia from Aviation Birch Plywood. With a range of 40 meters, the Aussie Fire Dancer looks spectacular as it sets the sky alight with it's red and orange colours. This boomerang suits an intermediate thrower.

Superangs, Foam Boomerangs
Beginner to experienced level boomerangs that are suitable for all.
Regular price

Sale price

$28.00 CAD

Unit price

per

Regular price

$28.00 CAD

Sale price

$23.00 CAD

Unit price

per
Performance Boomerangs
FlyingToyz Performance Boomerangs are handcrafted wooden boomerangs, made from aviation birch plywood.